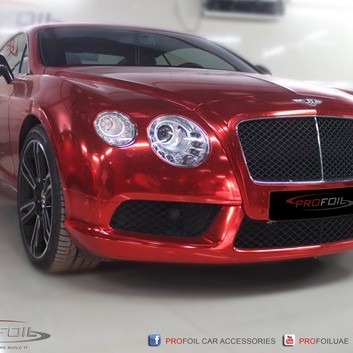 Bling! This is one for the Arabian desert. Chrome doesn't just have to be mirror looking, stick a gorgeous colour with it and you have a pretty amazing example of car wrapping. Just imagine this driving around the baking hot desert roads, sun low in the sky, it's just perfect for its location. Great work for Pro Foil.
Work by Pro Foil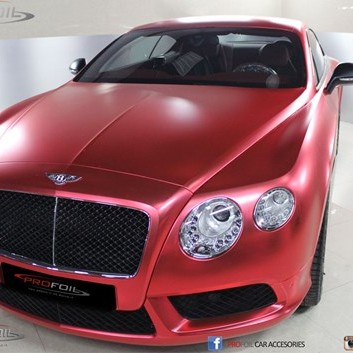 Another desert king, this time matte chrome car wraps. They certainly know how to treat their cars out there. Not only to these vinyl wraps look incredible, they are going to be a form or paint protection, blocking out UV rays and preventing damage from the harsh sand and stone chips.
Work by Pro Foil
Bentley Car Wrapping
All kinds of custom wraps available for all Bentley models
Making sure you order the right wrap for your Bentley model is essential to get the best result. 3Dom Wraps is very proud to have an incredible selection of the best wrappers in the world offering the best results for your Bentley. Check out all models our wrappers cover and use the wrap price calculator to get a close estimation of the wrap of your dreams.
Bentley 3.5 Litre 
Bentley 4.25 Litre 
Bentley Continental 
Bentley Bentayaga 
Bentley Brooklands 
Bentley Continental Supersports 
Bentley Continental GT 
Bentley Continental GTC 
Bentley Mulsanne 
Bentley Eight 
Bentley Mk VI 
Bentley Turbo R 
Bentley S Series 
Bentley T-Series 
Bentley Continental Flying Spur 
Bentley Arnage 
Bentley Azure 
Bentley Corniche 
Bentley R-Type 
Bentley Customisation Services
Customise your Bentley to make it truly yours