Automotive 
business tools

 & lead generation in the cloud, for vehicle restyling professionals
More cars,

Less admin
Get your free account
We've processed over 2
543

quote requests, 3

2585

price estimates, and served over 1,02

2004

page views
More customers, more revenue, better management
Welcome to our Automotive Saas (software as a service) product, Wrap Shop
We believe skilled professionals in the automotive aftermarket industry deserve to have more customers and build their businesses on digital foundations that will see them grow the way they want.
Get Leads
We promote your business in your area using advanced digital marketing techniques to potential customers with buyer intent. Reduce your marketing & digital spend and increase leads.
Create Quotes
Use our unique quoting tool that will speed up your processes and connect directly with our built in booking system, sales funnels and CRM.
Create Bookings
With all quotes, bookings and customers managed in one place, you can increase efficiency further by generating invoices, sending customer notifications and sending marketing emails all through Wrap Shop®.
Manage Customers
With all quotes, bookings and customers managed in one place, you can increase efficiency further by generating invoices, sending customer notifications and sending marketing emails all through Wrap Shop®.
An incredible product with a market leading directory, amazing features for both users and suppliers, all built around our unique lead marketplace for those looking to increase their revenue quickly and affordably.
With the Wrap Shop® connecting directly to both the directory and lead marketplace, we are able to offer a fully integrated solution for small to medium sized automotive service providers, anywhere in the world.
Sign Up
How does it work?
One unique automotive saas product with multiple benefits. Our Automotive Directory & Wrap Shop® provide you with everything you need to run a successful automotive services business, including increased leads, as part of significant ROI opportunities available through being a part of the 3Dom Wraps Network.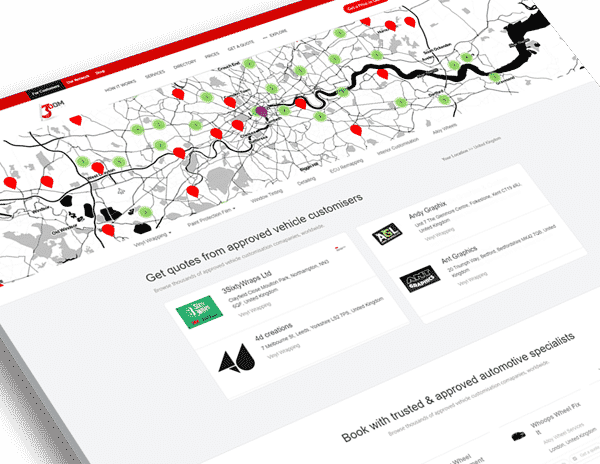 Directory | Network | Leads
If you want to increase your digital visibility, get more leads and grow revenue, then our directory listings are perfect for you as part of a Start Up subscription on our Wrap Shop product. Being part of the 3Dom Wraps Network will open up new opportunities for you and your business with the benefits of any of our subscriptions far outweighing the cost, with genuine return on investment opportunities for those looking for growth.
How it Works
Directory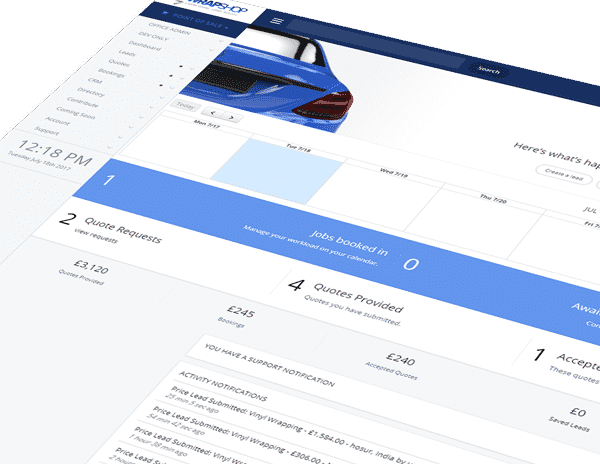 Wrap Shop®
Wrap Shop® is a one of a kind set of business tools specifically designed and created for automotive service providers such as car wrappers, vehicle detailers, window tinters and any other services where vehicle customisation is involved. A wide range of features allow you to generate quotes quicker and store them in the cloud, manage bookings and send automatic customer reminders and even generate invoices for when you are done.
All Features
Sign Up
Look who's already part of the 3Dom Wraps Network using our Wrap Shop products
Tell the world about your automotive services, attract a new audience of consumers and use business tools to assist your growth efficiently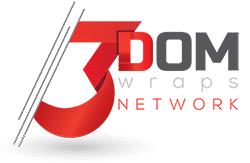 Display our brand and link to 3Dom Wraps through your own website and help the Network grow. By showing customers you are part of a growing Network with great content for the industry, we can promote your company further and display your work to all our site visitors, while your potential customers can be educated further on the details of each service you provide.
Grow your business through Instagram, Twitter & Facebook by tagging us and using our hashtag to feature on our image gallery. This will increase your exposure significantly and we love to share the work of the Network.
Branding
SIGN UP to 3Dom Wraps Wrap Shop now! Become part of the biggest and most advanced Automotive Aftermarket Services network online.
Get your free account
Still have some questions? Try our FAQ section
Wrap Style London, West London
Wrap Style started working with 3Dom Wraps early on in our beta phase and over the past year they have received many free leads as part of our customer development process and understanding how to qualify leads for a our network. Through these leads, Wrap Style have managed to win some big projects and have been involved in pitching for work with some top clients.
Their biggest success was winning a project with the marketing agency representing Pandora jewellery to wrap 2 range rovers in rose gold chrome. This was a significant project with huge ROI on even our biggest premium account option.

About Us
3Dom Wraps was created with 1 sole purpose, to provide a platform for automotive restyling businesses to increase revenue. We identified three key areas of focus to achieve this; Increasing quality leads through digital, providing cloud based business management tools to improve quote and booking efficiency and promote businesses directly through the worlds biggest restyling directory.
Read More
Our Journey & Market Research
For car customisation professionals looking to find out more about why you should sign up to the 3Dom Wraps Network we have created detailed look at how our systems work and what data has been collected over the past 18 months. This will tell you all you need to know about why 3Dom Wraps is great for your business.
Take a Look