Lead Marketplace – Automotive Lead Generation
Our unique marketplace allows for automotive service providers to capture qualified leads using our advanced 'Credit' system, from customers in their area, or further afield depending on the service and the capabilities of your business. Increase your revenue without significant increases in marketing spend using our advanced automotive lead generation tools.
Get your account now
New accounts come with a no obligation 7 day FREE trial.
Invest in the future of your company
Getting access to valuable leads in your area can assist in the growth of your business and open you up to a new customer base that you can turn into repeat customers and make significant returns on your investment. Manage leads, customers and bookings better through our Wrap Shop® product.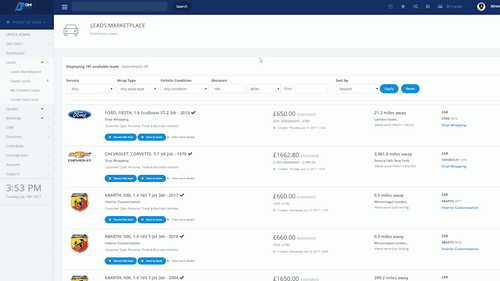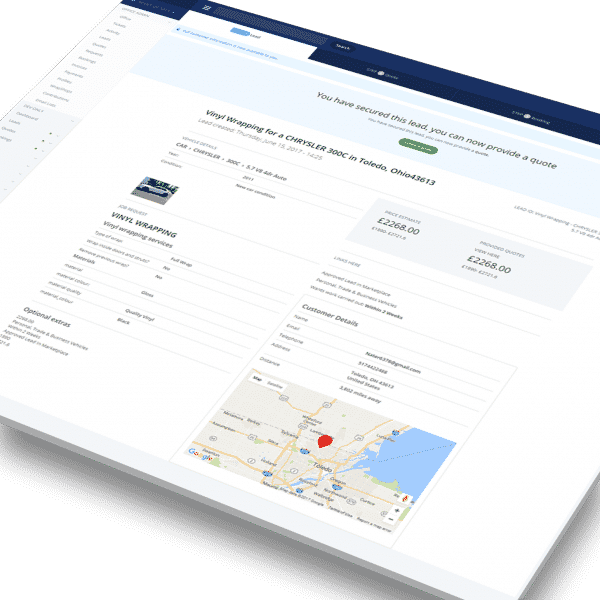 Get the right leads at the right time and in the right area
Leads near you

The key to the success of our automotive lead generation is the delivery of quote requests to professionals in the local area of the customer. This makes each lead valuable to a small group of professionals and increases the likely hood of your business winning the work, even if you have strong competition around the corner.

Qualified leads

A qualified lead is one that is going to be of value to our network of professionals and not take up valuable time and money with requests that are unlikely to convert. Our sole focus is providing value for our network and we work hard to assess each lead based on the generation process.

Hot & cold leads

Leads in the marketplace will be marked as hot or cold, based on various criteria assessed during the automotive lead generation process, such as time since the request, potential value of the lead and when the customer needs the service. As a lead 'cools off' it will become harder to convert but may require less credits to capture.
Never miss out on a potential new customer, stay informed and increase your revenues
Notifications

Choose how you want to be notified about quality leads in your area, based on your own criteria. We know different companies will value leads differently, so customisation is essential. Receive email, push notification and text messages so you can grab new opportunities instantly.

Instant purchasing

No need to waste time and lose a strong lead by having to buy them from us. Members simply use their credits, renewed at each monthly billing date, to allow instant lead capture.

Easy quoting

Getting a lead is one thing, now you need to win it. Our marketplace connects directly to Wrap Shop where you can generate quotes quickly and easily and increase the likely hood of winning new work.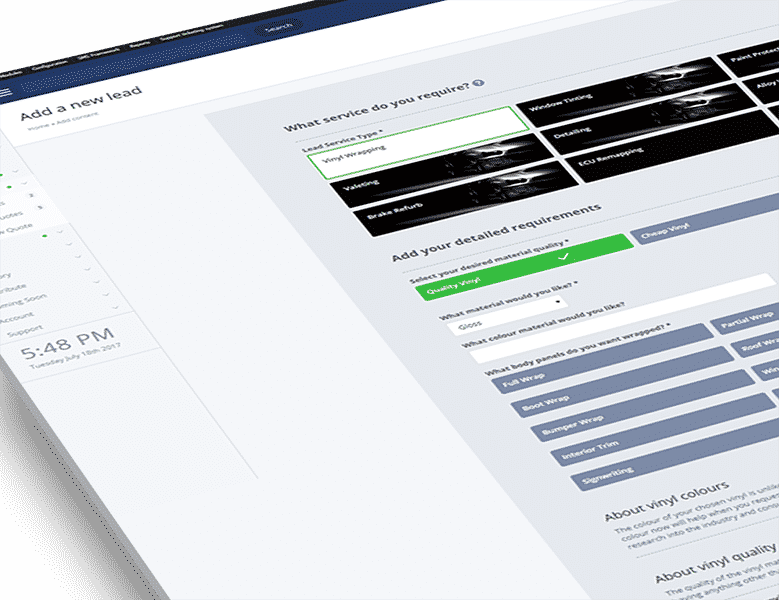 SIGN UP to Wrap Shop® & the 3Dom Wraps Network now, it's FREE for 7 days! Become part of the biggest and most advanced Automotive aftermarket services directory & automotive business tools product online.