Generating digital quotes for your services can be a time consuming task and it's difficult to manage everything that is going on as part of your business forecasting and prospecting. Our quote creation tool as part of Wrap Shop® is an efficient way of not only generating quotes quickly, but managing your pipeline of quotes and automatically following up with prospects on your behalf. It's a real time saver and massively powerful
Sign Up Now
New accounts come with a no obligation 7 day FREE trial.
A quote pipeline from lead marketplace
Our Wrap Shop® quote creation tool is all encompassing, connecting directly with our lead marketplace and booking management service, allowing for end to end prospecting through to conversion processing.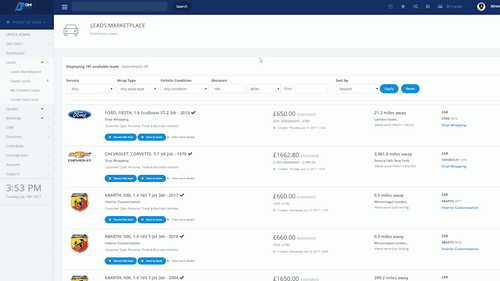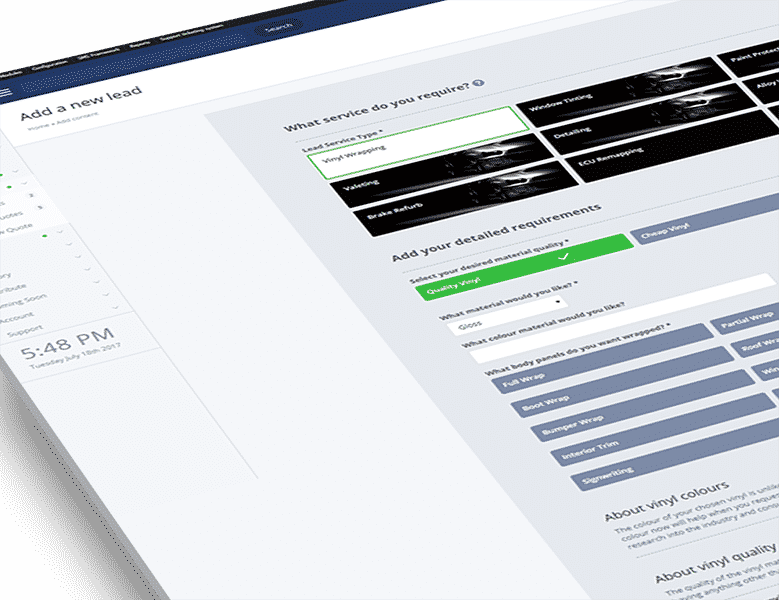 Create your perfect quote system and price right, every time
Automotive data

Our quote creation system is built off the same data as our price calculators, providing service professionals with highly powerful tools, easily customisable to suit your business needs. Select vehicles from drop downs and use vehicle sizes to auto generate material usage calculations.

Auto generate from leads

When leads come through 3Dom Wraps or via your embedded price calculator, your quote creation will be automatically generated for you based off the information provided by the customer including vehicle, service requirements, guide price provided to the customer from the calculator and customer contact details, which also populate our CRM tool.

Setup your costs, material costs & margins

Quote the right price every time, quickly and easily by pre-configuring your account to use vital information about your business. Setup is simple and can be used as your own internal calculator or to simply provide you with a base to build your ideal quote.
Never miss a sale, be available 24/7, track and follow up on your leads
Quotes in the cloud & on the go

As a small business owner you may not always be available to provide quotes or respond to prospects when you are on a job or out with existing clients. Our cloud based system works across devices and allows for 24/7 management of your potential customers with your configured quote creation process available to generate new quotes on the fly without impacting on your current tasks.

Track prospects

Instantly see quotes that have been sent, are in drafts, have been chased up and those that have converted into bookings. A simple quote management tool that increases efficiency and allows for improved management of your sales pipeline.

Automatically follow up quotes

Having sent a quote to a potential customer, the hard work has only just started. Use your quote system to automatically follow up with prospects and encourage conversions. Get notified on progress and responses from these customers.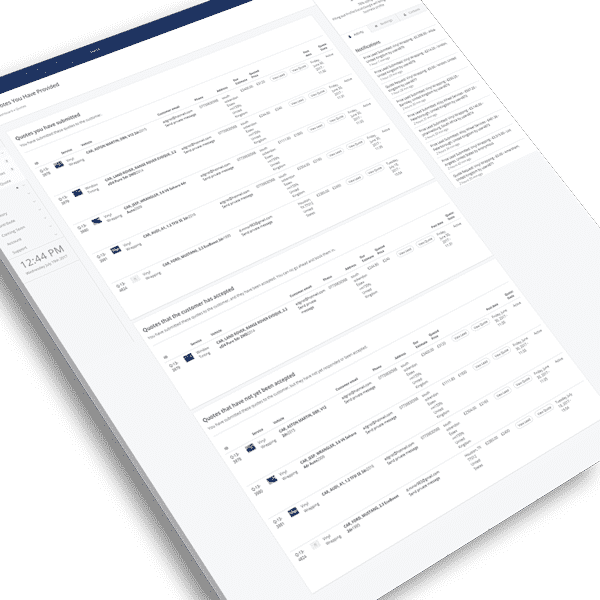 SIGN UP to Wrap Shop® & the 3Dom Wraps Network now, it's FREE for 7 days! Become part of the biggest and most advanced Automotive aftermarket services directory & automotive business tools product online.