How It Works
Grow your business with new customers, managed in the cloud
More cars,

Less admin
3Dom Wraps works to grow your business & provide you with the tools to manage that growth
Genuine Growth
We provide valuable leads from individual customers to fleet owners and commercial partners
Affordable Growth
Develop your car customisation and service business into a powerhouse at an affordable monthly cost
Cloud Based
Get new customers, manage existing ones and create your bookings all from a central location, on any device, in the cloud
Increase Exposure
We are dedicated to your business growth through promotion on our automotive directory to social media exposure and content
A Simple 1, 2, 3 Process
Our digital marketing capabilities have lead us into a market leading position online for car customisation services like yours. We use our digital influence to help our clients grow their businesses for long term success and provide them with the platform to do so with our unique SAAS product Wrap Shop®.

1. Sign Up
Sign Up in just 2 minutes and join the future of car customisation, with your business listed on our directory and with access to leads immediately

2. Build Profile
Setup and build your business listing profile to sell your services and skills to local customers and the rest of the world

3. Make Money
Increase revenues for your business with our leads, provide quotes and convert to bookings using the complete Wrap Shop package of tools
Leads - Increase your revenue
We get big traffic to our site everyday from car and bike enthusiasts, businesses, marketing agencies and fleet management companies, looking for professional services like yours. We collect their requirements and details and provide these to members of our network via our Leads Marketplace.
Whether you're a Start Up account holder or a Pro member, you will receive leads each month from local customers, just by being registered with us. All you need to do is provide a quote and grow your revenue with 3Dom Wraps.
Sign Up
Features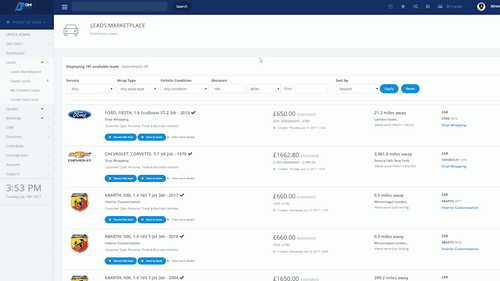 Calculator
Potential customers will use our guide price calculator before submitting a quote, so each lead is qualified and valuable to our network

Quotes
Once the customer chooses to submit a quote request, suppliers in their area, like you, will receive the lead as an email, text or to your account

Bookings
Our custom built booking system takes each lead from quote to booking all in the cloud. You can even add your everyday bookings!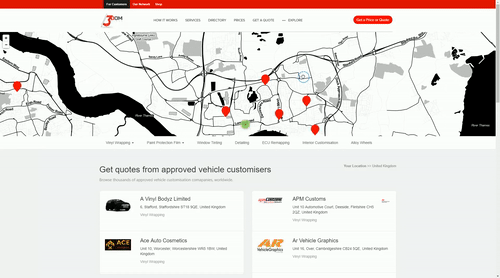 Automotive Directory
There are some directories online for car customisation services, but none quite like ours. Our powerful brand and website generates hundreds of leads a day and our directory is key to promoting our network of suppliers. Customise your business profile to sell your skills, services, options and even display your work.
Pro members, and above, get exclusive leads through their business listing, while Start Up members have their details listed for potential customers to get in touch with you directly.
Even non-members are listed on our directory, making us the worlds biggest directory of restylers and providing great resources to both our network and your potential customers.
Sign Up
Features

Claim your listing
Your business may already be listed, so sign up and claim it or simply provide your details to us. Each sign up is manually reviewed

Build your profile
Our automotive directory is a sales portal for your business, so sell yourself and stand out from the crowd to get noticed. Go Pro to gain exposure

Promote your page
Share your page with customers, on your website, social media and business cards and request customers to leave reviews
Wrap Shop® - Our powerful & unique SAAS product
We have worked for many years to create the perfect Software as a Service product for the automotive customisation industry, branded Wrap Shop®. This incredible product is a market first and it not only provides a platform to manage your services business, but connects to our lead marketplace and automotive directory to directly increase your revenue.
Manage ALL your quote requests and bookings in one centralised location, in the cloud, from any device at any time. Provide instant quotes with our one click system and stay on top of your business growth.
With additional tools like CRM, social media promotion, invoicing and even stock management and re-ordering from your dashboard, this really is the only business management tool you need.
Sign Up
Features

Unlimited Access
All subscriptions get access to Wrap Shop® with unlimited use of all our services for at an affordable monthly cost, with genuine ROI possible year on year with no more to pay us

ROI - Earn back your spend
By combining our SAAS tools, lead generation and digital marketing services into one package, we know you will see a return on your investment

Your business, on the move
With one tool and multiple services, you really can power your business from anywhere, on any device at any time. Track sales, view lead pipeline & see the numbers in your dashboard
Time to increase your revenue!
With services like ours available today, get signed up and begin your journey to business growth.
More cars, Less admin
Only the best suppliers, materials and brands