Digital automotive business tools to
increase revenue

& efficiency
Grow your business significantly with our
cloud based

products
Get your account now
New accounts come with a no obligation 14 day free trial.
Custom built to grow businesses in the automotive services industry
Increase visibility online

Increasing the visibility of your brand and services online is a complex, expensive and even frustrating task if you are unsure on the sure fire tactics used by the worlds leading digital marketing experts. Using our market leading automotive directory, you can gain exposure for your business site wide, as well as appearing in Google search results that may have otherwise been difficult to achieve with your own website.

Increase local leads

Service business are often limited by location, meaning nationwide advertising is unlikely to result in an uplift in conversions for your services. By using a powerful directory and lead generation tool like 3Dom Wraps, you can be sure that local prospects find your company too and not just your bigger competitor who is just around the corner.

Increase bookings

3Dom Wraps is no ordinary automotive directory. Our system has been created to drive more sales and attract potential customers through advanced content marketing strategies, powered by our partner SEO agency Searched. This brings areas, listings and brands to the forefront of search marketing, bringing highly targeted and ready to buy customers to your businesses. This in turn leads to an increase in leads and therefore increase in confirmed bookings for our Network.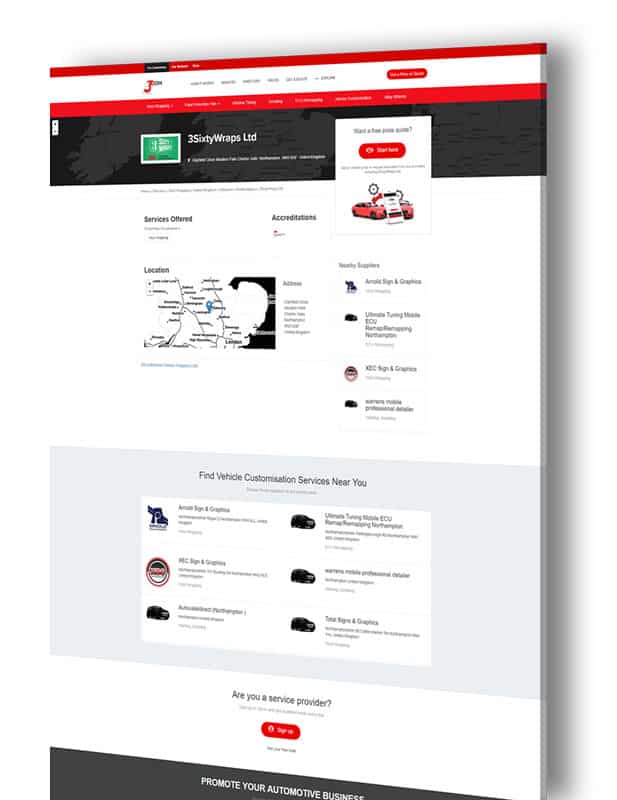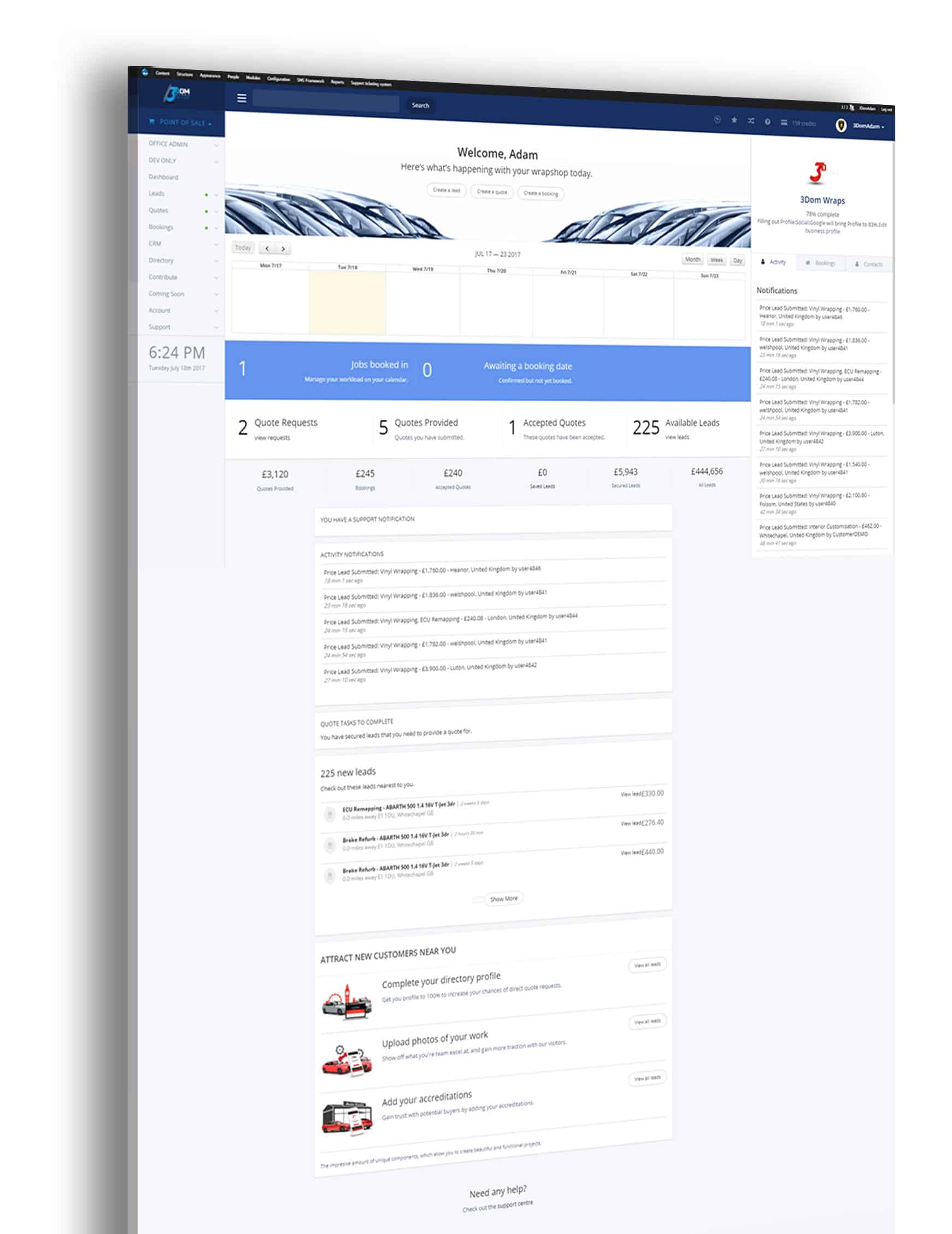 Improving workflows, sales channels and company efficiency
Automate admin processes

Speeding up your admin tasks will free up your time to do what you do best, work on cars. Using our revolutionary Wrap Shop® product, you can take your small business to the next level of efficiency and customer care and make a genuine return on investment. Send invoices, add customers to your crm and create bookings from quotes, all can be done quickly and easily with Wrap Shop®.

Manage quotes & bookings

If you run a busy services business you will understand how difficult it can be to stay on top of all your sales prospects, incoming leads, outgoing quotes and organising your booking schedule. Using the Wrap Shop® management system all of this becomes more streamlined and effective, freeing up your time for your business.

Grow with cloud based business tools

Taking your business into the cloud means you never have to be away from the office or from potential new customers. Your customer information, leads, quotes, bookings, calendars and even invoices are all in one place, accessible from anywhere on any device. Whether you are a mobile service provider or you are an office based MD, having all your vital business management tools in one place will improve your business and provide a ROI.
All Wrap Shop® Features
Automotive business tools, created by the industry, for the industry
Automotive Directory Listing
Increase your visibility online – Promote your services, portfolio and social media on the worlds leading automotive aftermarket directory and be part of a fantastic network.
Read more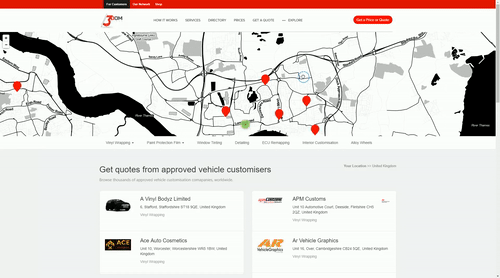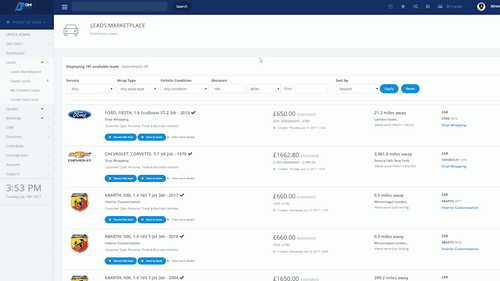 Increase your revenue – Our lead marketplace brings potential sales in your area into an open marketplace for our directory of suppliers to purchase. A unique opportunity to increase revenue with amazing ROI potential for entrepreneurial business owners as part of our automotive business tools.
Read more
Credits
Access anywhere, any device, your business in the cloud – Our booking system connects directly to our lead marketplace, providing you with a complete sales funnel. Book in all your customers, manage your calendar, add notes and include valuable vehicle data.
Read more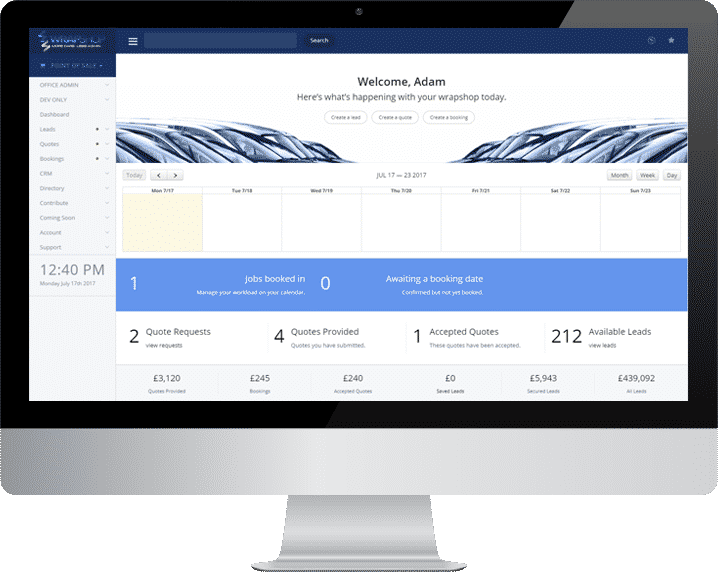 Sign Up Now
Join the best automotive aftermarket network available anywhere on online & grow your business with management tools in one place.
Speed up your prospecting – Providing quotes takes time but ultimately drives your business with every lead worth potential revenue. Plug in material prices and markups, add hours, bay charges and overheads to not only speed up your processes but improve your quotations and revenue. Embed our price calculator on your website too qualify your leads. No other automotive business tolls on the market provide this level of product.
Read more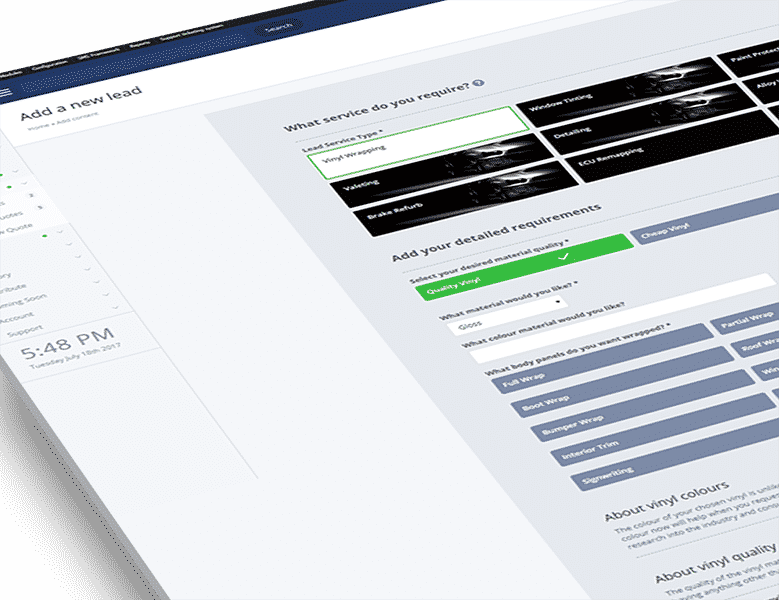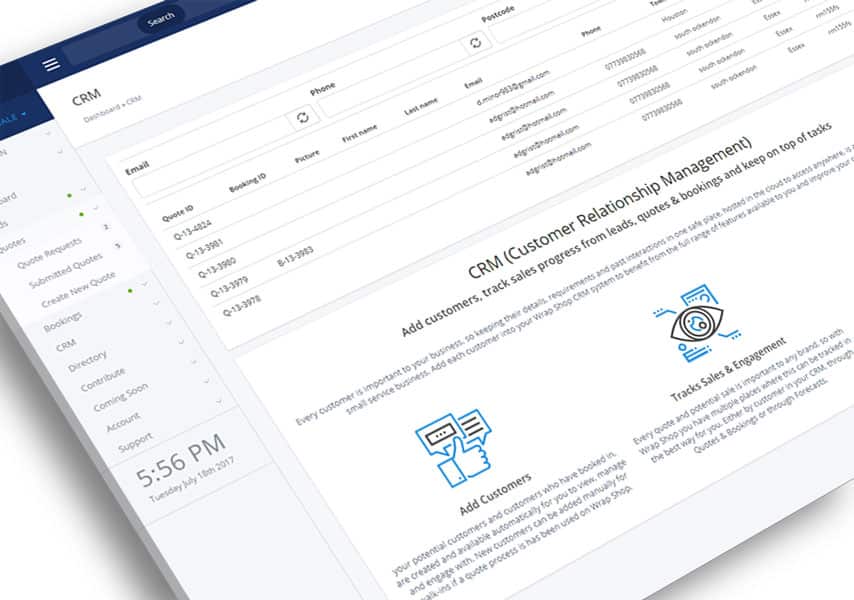 Customer Relationship Manager (CRM)
Retain your customers for life – Build up the knowledge about each client and store it in a central location for future sales, aftercare support and future offers. Access from anywhere, on any device for the benefit of your customers.
Read more
Contribution & Social Promotion
Additional promotion – We are committed to supporting the growth of our members, using the tools available to us. Submit social media posts of your latest work and offers directly through your Wrap Shop® dashboard, write articles and feature your content on our powerful automotive customisation blog. This is a great way to build your reputation, show off your expertise and build value to your own website.
Read more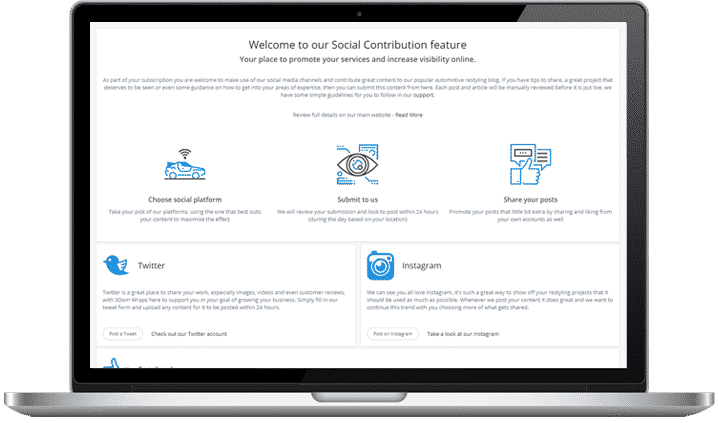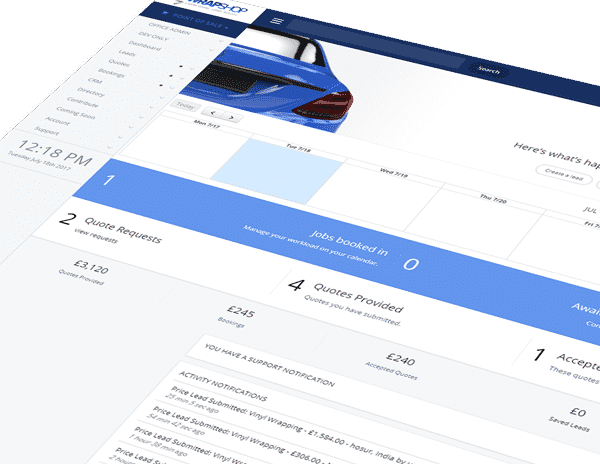 See the sales future for your business – Our powerful sales forecasting feature within Wrap Shop® connects your leads, quotes and bookings together, including monetary values so you can track what you have quoted for, what you have booked in and what your conversion rate looks like from start to finish.
Spend your time making money – Reduce your admin workload by using our invoicing and billing tools and streamline your workflow. Beautiful invoices created quickly, easily and stored in the cloud.
Read more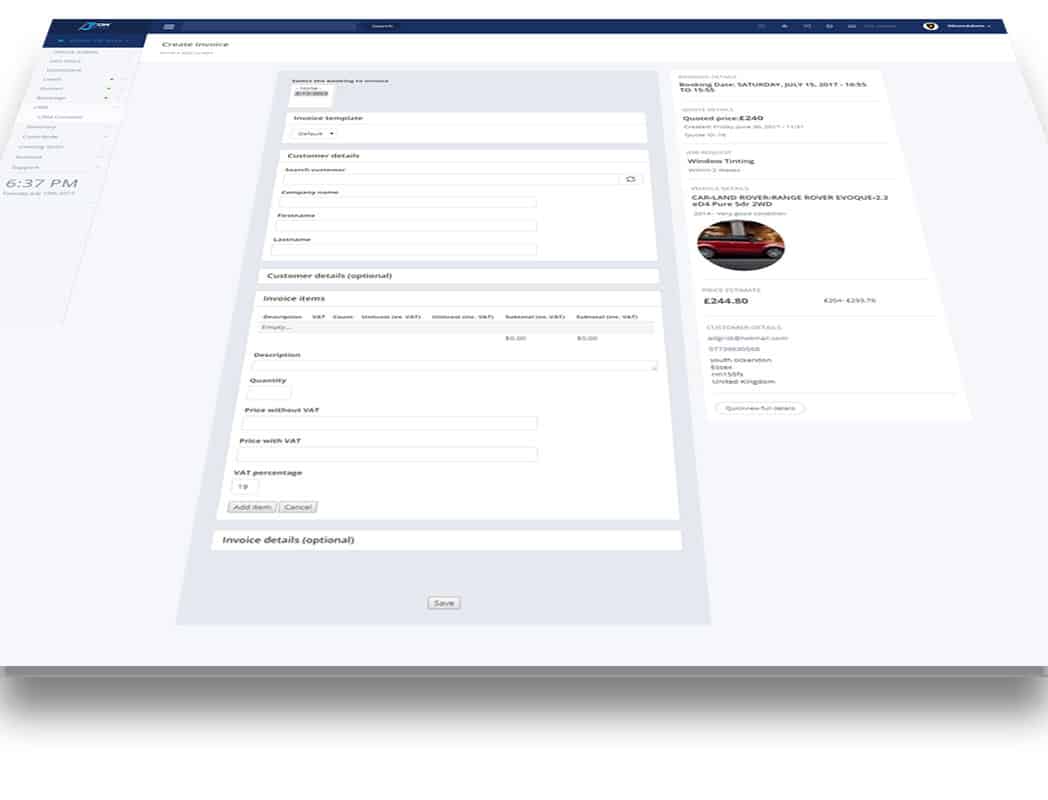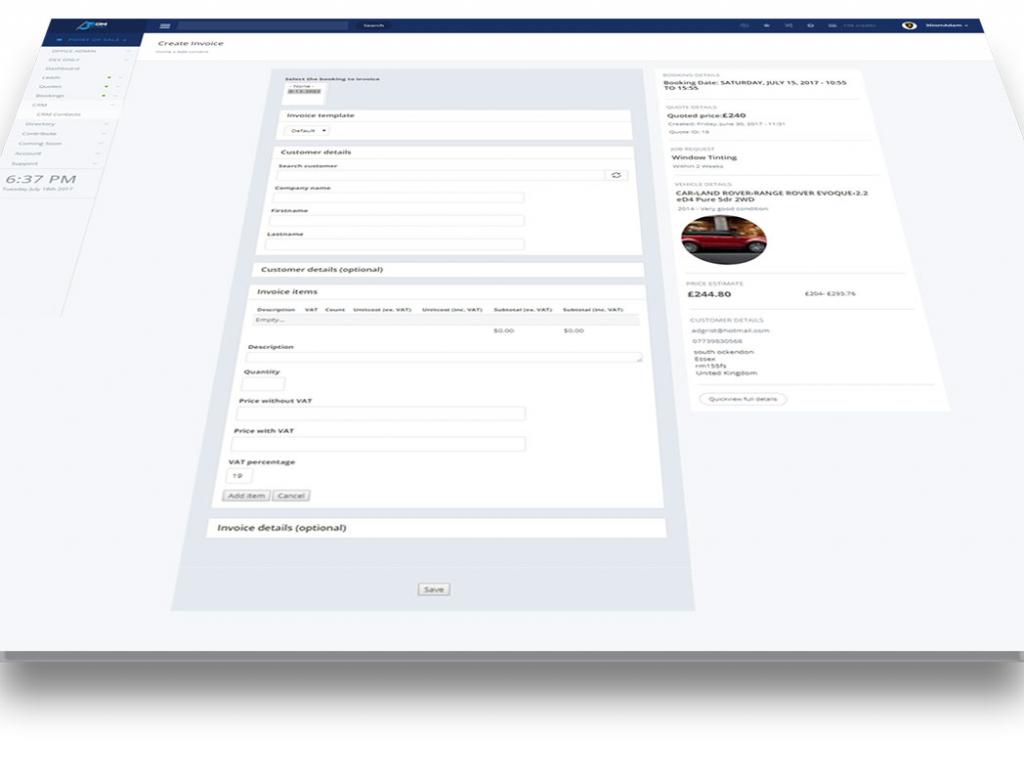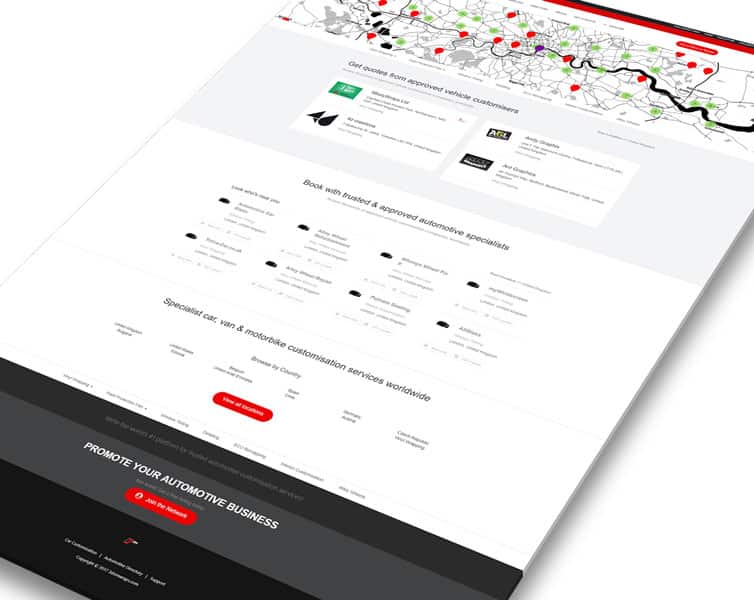 Build a strong online reputation – Get your customer reviews in front of more potential clients looking for your services with genuine buyer intent. All reviews checked and authorised and encouraged through your own aftercare strategies.
Embed our price calculator – Coming Soon
Help your web visitors, filter strong leads – Our price calculators assist web users in understanding the processes and prices involved in the services they need, without filling your inbox. Genuine customers only.
Read more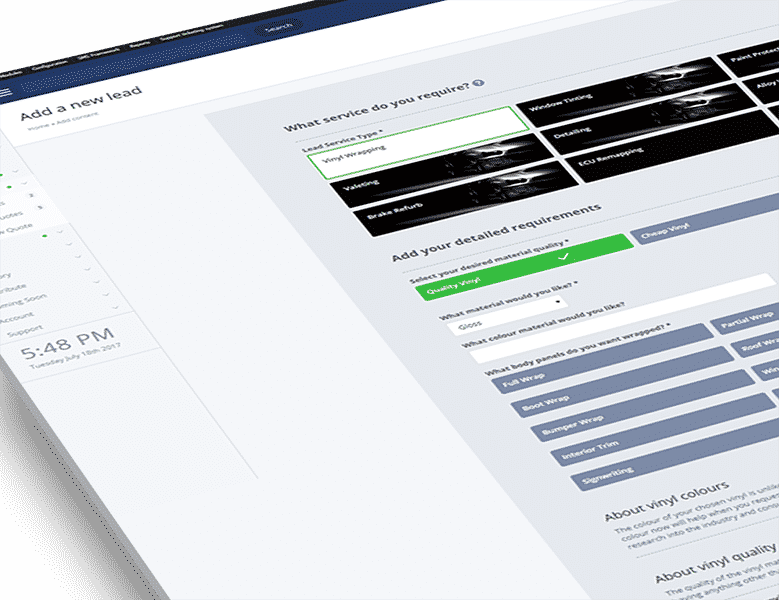 SIGN UP to Wrap Shop® & the 3Dom Wraps Network now, it's FREE for 7 days! Become part of the biggest and most advanced Automotive aftermarket services directory & automotive business tools product online.