Automotive Franchise Management Software
Connecting directly with our automotive Saas product Wrap Shop, you can manage your franchisees and locations in one custom built dashboard.
Sign Up Today
Prices from as little as £50 per month, per franchisee
Only the best suppliers, materials and brands
Franchisees running their businesses in the cloud
With your franchisees running their businesses in the cloud on our custom built automotive saas product Wrap Shop, we are able to surface and connect you to vital, authourised data for the most effective franchise management software available. With no need to manually create or configure your franchise locations, you will be up and running immediately, tapping into each businesses data for the ultimate overview, with powerful management tools to increase your knowledge of not only specific franchisees but of specific markets too, such as location, services and vehicle markets and trends.

Sales & Forecasting
Instant overview of your Franchisee Wrap Shop sales and forecasting data.

Market Data
Understand service, vehicle and pricing markets across each of your locations.

Franchisee CRM
Track conversations, agreements, royalty payments, tasks and calendar dates.

Management Tools
Share projects and knowledge between franchisees from anywhere in the world, anytime.
Perfectly suited to these automotive industries






Franchisee Overview Dashboard
Dashboards have become powerful tools in most cloud computing applications, providing businesses with valuable information and data in quick, snapshot views, tables and graphs.
Managing your franchisees has never been easier with our Wrap Shop Franchise product, a specially designed franchise management software that connects you directly to your franchisees Wrap Shop. See incoming leads, out going quotes, bookings and sales in quick snapshot data through your powerful dashboard. Your real time dashboard will help your company grow, providing insight into your network of franchisees like you have never had before.
Wrap Shop is a custom built automotive saas product, providing small businesses with powerful business management tools inc quoting, booking and stock management, local leads and local advertising opportunities, all as part of a small monthly subscription.
Request a Demo
Explore Wrap Shop
Your simple to use real time dashboard will become the powerhouse of your business on a daily basis, tracking every valuable data source from every franchise location around the world.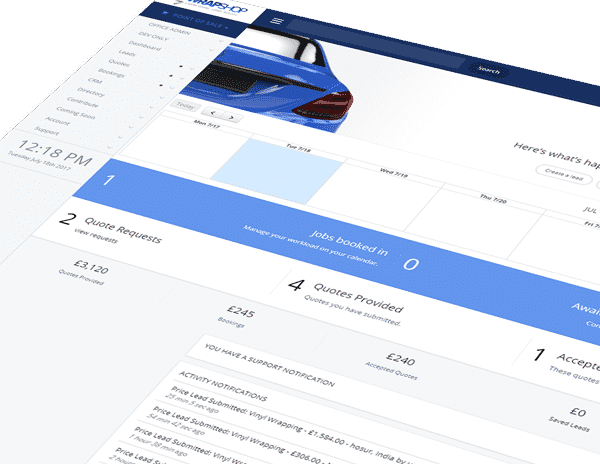 Know exactly how each location is performing
Less big brother, more business development and understanding how your portfolio and assets are performing for your own forecasting and franchise management. Lose the spreadsheets and quarterly reports, with all data tracked and collected from each locations own Wrap Shop account.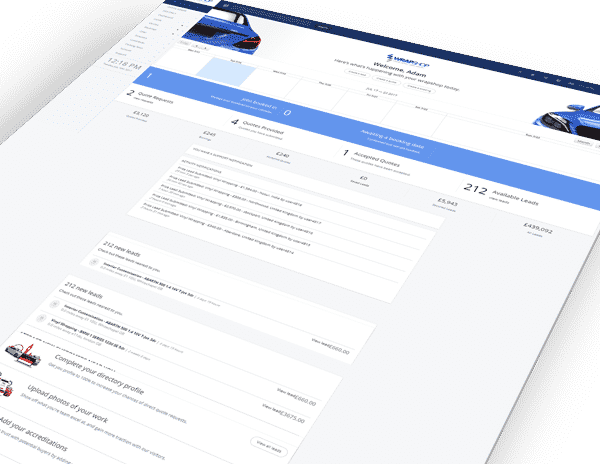 Franchisee Sales & Forecasting
Franchise management software should be more than simply a location for storing and viewing data, it should be the brain of the whole operation, connecting directly to the businesses and their daily, weekly and monthly activities, without creating any additional tasks for those teams, or yours. The benefits of such tools cannot be underestimated, with the future of each franchise tracked in the cloud, accessible by you and your team from anywhere.
Support struggling locations, generate additional leads through partnerships with other franchisees and arrange the help that they may need from operational support to training, advertising and customer care.
Want a Demo?
What is Wrap Shop?
Transparency & Engagement
The philosophy 'Better Together' could not be more relevant than to franchise businesses, with any franchisee benefiting from the help and support of the franchise and it's network, especially in the first year or two. Transparency between businesses could be essential to the relationship and the survival of the franchisee and once this is achieved, the engagement with those partners will improve significantly.
Having their business and market data at your fingertips can empower you to make key decisions in order to provide what any given franchisee may need.
Request Demo
Wrap Shop Features
All your sales and management tools online, with the power to manage your growth from anywhere.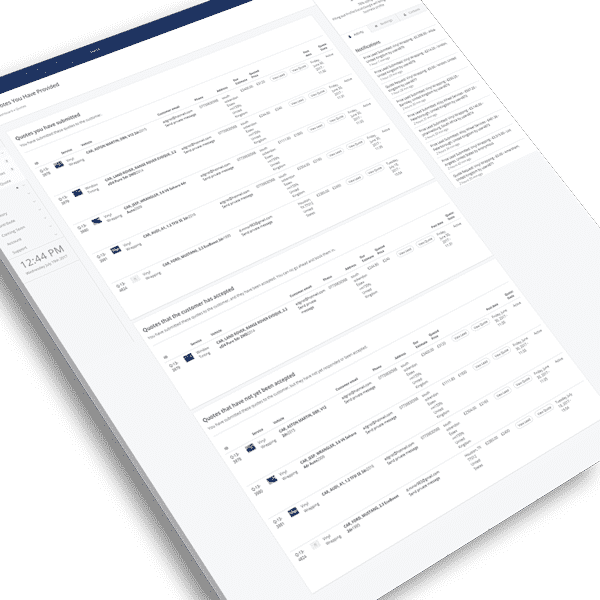 Market Data
How much do you know about the specific services being requested in each of your franchise locations? or what services are most popular across your whole portfolio? How about what vehicles are most popular? Average sales value? Quote to booking conversion rate for each store and the whole network?
If all of that is alien to you or you and your team use valuable resources in creating such data from each location individually, then Wrap Shop Franchise could completely revolutionise your brand and the way you target grow.
Knowledge is power
Every aspect of the data available from each of your franchisees day to day Wrap Shop use can help you predict future growth, develop new business opportunities and identify new markets in new locations.
Leads – Every franchisee lead, captured, stored and available to you and your team.
Quotes – When a quote is submitted to any customer, the value, service and vehicle are tracked for your data.
Bookings – Bookings = $$$ and sales are what you want to see. Instant conversion rate tracking from each franchisee, daily, weekly and monthly booking and sales figures created in real time.
Individual & Overview Forecasts – See the individual sales forecasts for each franchisee and instantly view a complete forecast for the entire network.
Franchisee CRM – Keep track of conversations, send direct messages and encourage engagement from your franchise network.
Time to increase your revenue!
With services like ours available today, get signed up and begin your journey to business growth. Enjoy the ride…