Automotive directory listing
Directory listings are the easiest way of promoting your services online, but they are often not effective, expensive or too broad and not tailored for your specific requirements. 3Dom Wraps is different. We generate leads, we provide significant exposure to the right audience and we are automotive through and through.
Get your account now
New accounts come with a no obligation 7 day FREE trial.
A powerful automotive directory that delivers marketing results
One look at our amazing automotive directory and you will be asking how to sign up. It's simple, just follow any of our links to 'Sign Up' and within minutes we will have your featured as one of listings, for free.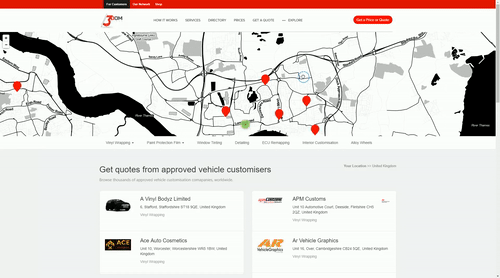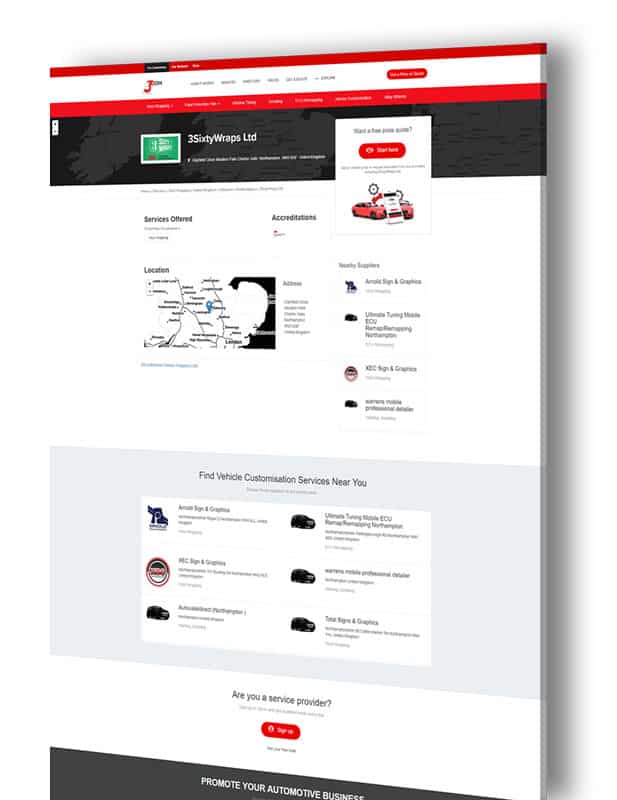 Show off your skills to your local area and the rest of the world
Location Based Targeting

Every service provider has a location based listing. This means we are able to put your business in front of web visitors near to you. Car customisation customers in your area will see your business listing not only when searching, but when using our price calculator, blog and car customisation community.

Business Showcase

Your business listing is the perfect opportunity to sell your services and make you the chosen service provider for customers in your area. By building up your profile with great information and images, potential customers are far more likely to get in touch with you directly.

Multiple Services

Many skilled automotive service providers have had to increase their knowledge base and skill set in order to stay competitive, so our directory is a great way of promoting your full range of services, from car wrapping to car detailing.
We compare leading car wrap directories Wrapper Mapper and the 3Dom Wraps Wrap Shop products. Find out the benefits of each.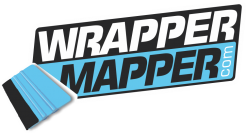 Worldwide Wrap have a leading car wrap directory and social media following, but how does it compare to the 3Dom Wraps tools? Explore our comparison for more details.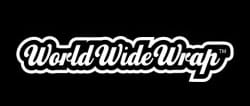 Join a thriving community, provide your knowledge and grow your reputation online
Community

3Dom Wraps has a thriving automotive community that is a perfect way for service providers to engage and connect directly with a worldwide network of like minded individuals and potential customers. Build up an online profile and reputation that will demonstrate your influence in a worldwide network.

Accreditations

Accreditations are an essential part of automotive care and customisation, with such valuable equipment being worked on.We promote those who are well trained for the benefit of our users.

Recommended to users

Once a visitor arrives on our website, we know their location, wherever that may be in the world. As a result, we are able to surface businesses that are nearest to them throughout their time on our website.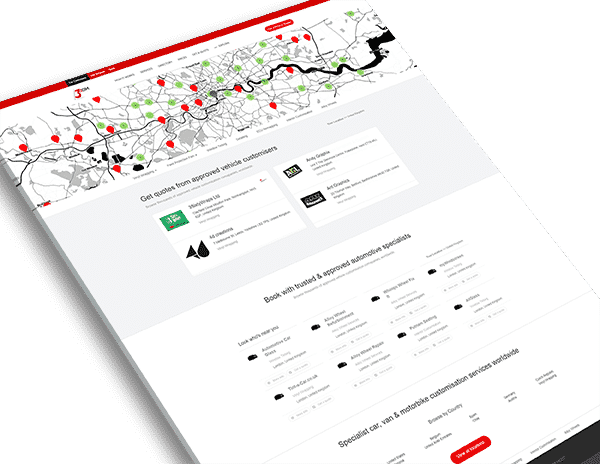 SIGN UP to Wrap Shop® & the 3Dom Wraps Network now, it's FREE for 7 days! Become part of the biggest and most advanced Automotive aftermarket services directory & automotive business tools product online.