Ford Vinyl Car Wraps
Re-imagining your Ford with a look-changing vinyl wrap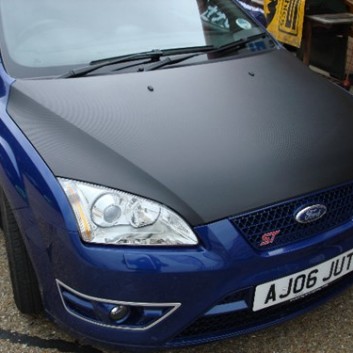 We understand panel wrapping and how done in the right way it can look the nuts. But for a change we have an example we are not a fan of. Car wrapping can get a bad name from this sort of wrap. Don't get us wrong, the quality of the wrap looks top notch and the wrapper can't help the customers taste.
Work by Ambient Graphics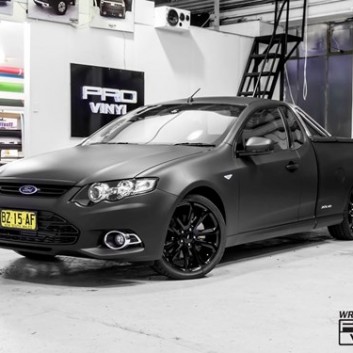 Well in the UK we don't see these very often, if at all. This pick up is a true Aussie hero and they love them. The owner of this clearly wanted everyone to know he means business with this matte black car wrap.
Work by Pro Vinyl
Ford Car Wrapping
Not all Ford models are the same, but our services to them are
Ford is one of the most beloved American manufacturers in the world. Its efficiency and range of models have captured millions across the 5 continents. With such an active portfolio of models, Ford customization options has had to evolve rapidly to catch the same pace. Try out our wrap price calculator and bring your wrapping idea to life for less than you would imagine.
Ford Anglia 
Ford B-Max 
Ford C-Max 
Ford Corsair 
Ford Cortina 
Ford Cougar 
Ford Edge 
Ford Escort 
Ford Excursion 
Ford F150 
Ford F155 
Ford Fiesta 
Ford Focus C-Max 
Ford Focus Rs 
Ford Fusion 
Ford G40R 
Ford G50 
Ford G55 
Ford Galaxy 
Ford Granada 
Ford Grand C-Max 
Ford Gt 
Ford GT3 
Ford GT4 
Ford Kuga 
Ford Maverick 
Ford Mondeo 
Ford Orion 
Ford Puma 
Ford Ranger 
Ford S-Max 
Ford Scorpio 
Ford Sierra 
Ford Taurus 
Ford Thunderbird 
Ford Tourneo 
Ford Transit 
Ford Transit Connect 
Ford Transit Courier 
Ford Transit Tipper 
Ford Windstar 
Ford Zephyr 
Ford Capri 
Ford G40 
Ford Streetka 
Ford Ecosport 
Ford G60 
Ford Tourneo Connect 
Ford Explorer 
Ford Grand Tourneo Connect 
Ford Transit Custom 
Ford Focus 
Ford Ka 
Ford Zodiac 
Ford Mustang 
Ford RS200 
Ford Customisation Services
Making your Ford completely yours
How much do other Ford customisations cost?
Prices for vehicle restyling services from our price calculator
Ford Window Tinting Prices
Ford Paint Protection Prices