2015 saw us complete our first year online, in a year that was purely about learning the industries we are targeting, whilst educating the public about the automotive aftermarket, so we can grow in the right directions for the future. We have amassed a wealth of valuable data, learnt many lessons and seen our main area of focus,
Car Wraps
, grow significantly in the past 12 months. Things now look extremely promising, not only for our own business model, but for Car Wrapping as a service and most importantly, as an online accessible service.
The Car Wrapping Goal
We set out to achieve big things in the car wrap industry. To change the way customers can go about getting a wrap and to grow the industry through education and
digital marketing techniques
to allow us to influence buyers and the industry as a whole, and therefore grow the market in the UK, before branching out internationally. Our extensive resources in digital marketing have seen our young business position itself among the market leaders of the UK car wrapping scene. This may ruffle a few feathers, but with our goal to increase the value of the industry nationwide, we know all professional service providers can benefit from our efforts.

What have we learnt about car wrap trends so far?
We are in a privileged position where our parent company are also digital developers and marketers, so each and every aspect of our business is focused around growth, data science and data analysis. We are creating a series of industry specific blog posts to provide this useful data to our network of skilled service providers to educate, inform and show we are here to stay and be a significant resource to the online market.
1.     Car wrapping is growing online
Many of you will be aware that the industry is growing rapidly, with most of you fully booked and seeing bigger levels of sales than ever before, which is fantastic news. Where things get extremely exciting for everyone, is seeing the trends online and how this is translating into such growth in the industry. As many digital marketers will say,
'avoid digital at your peril.'
The risk of being left behind with a poor performing website or social channels is very real, but this is where 3Dom Wraps aims to support lower budget but highly skilled service providers. Taking a detailed look at Google Trends suggests more growth is on its way from April 2016 through to August 2016, which we predict will be the peak season for this year and the
biggest on record
for Car Wrap searches online.
2.     All keywords are growing, but at different rates
Keywords are an essential part of a digital marketing campaign and thorough analysis of an industry can be the difference between significant online sales and struggling to get in front of the right people. We can see from the below graphs that each of the top terms are growing at different rates, with one stand out performer that will drive significant leads to our
car wrapping businesses
in 2016 and beyond. Getting on top of these terms now will be vital to prevent competitors pushing you further down Google.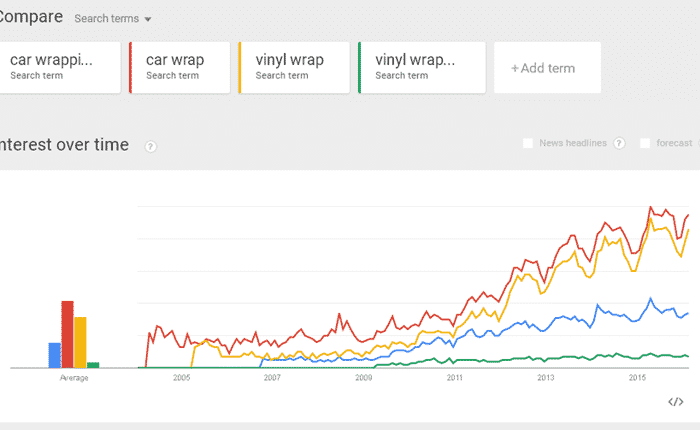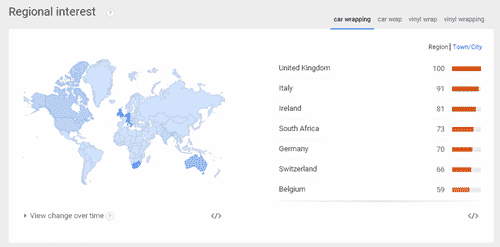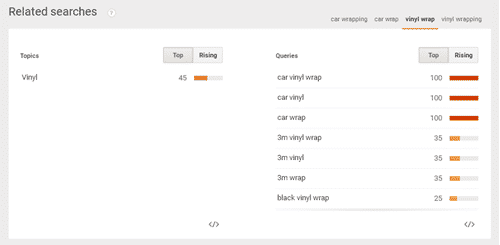 3.     Smaller, cheaper cars want wraps too
There is a growing dilemma in the industry. Costs are too high to wrap the 'smaller' and 'cheaper' cars, yet the demand from customers is growing month on month, people want to get their cars wrapped. The top 5 cars that we have had car wrap quote requests for over the past 12 months can be considered 'small cars' and these also equate for
11% of all our requests
. A big potential market…if it was affordable. A lot of this comes down to education of customers. Education of prices, education of how long a car wrap takes to do and how long they last, education of wrapper accreditations, guarantees and insurance. A perfect online platform is needed to solve these issues, which we are working on. The launch of our new
Car Wrap Price Calculator
has seen our customer engagement increase x5, our mailing list grow by over 100 a day and demonstrates the power of digital technology in the industry.

4.     Customers want instant price guides
Over 75% of our web traffic
are looking for prices and guides, rather than actual quotes. Car enthusiasts and the general public want to be educated on what is still considered a very new service, that many have never heard of before. By providing the right information, in the right places, websites can become more efficient and actually generate higher returns by reducing the quote requests that are not engaged buyers.
5.     UK is fasted growing market online, especially Birmingham, London and Manchester
No-where else on the planet is a
car wrapping
market growing as rapidly as the UK, with only Australia on a similar path. This is hugely exciting for all businesses involved in the industry whilst it is still considered young and untapped. 3 Cities in particular are identified on Google, and through our own data, as experiencing the fastest growth. Birmingham, London & Manchester respectively. Interestingly this suggests that growth is a fairly planar nationwide, taking into account the data shown in the south, midlands and the north. New wrap installation locations in these areas would
certainly have an opportunity to succeed in the current market
.
6.     Image search is big, optimise your images
We receive significant traffic, up to 15%,
from image searches
on Google Images. Image search is very much a part of digital marketing campaigns, but it suits some businesses and markets more than others. Car wrapping, and vehicle customization in general, could not be better suited to being highly optimised for image search, with car photos increasingly becoming a starting point for future customization ideas. Optimisation is simple but effective. First off, why not send us your case studies and images and let us get you the exposure your work deserves. 1.    Name your files, simply call it what is being shown 2.     Add alt tags. This is basically the text that Google reads to understand what your image is of. Again, do your alt tag to suggest what is in the image, rather than SEO keyword packing. 3.     Title tags. Same as the above.
If you are working in the Car Wrap industry, we hope the above will be useful information to help you continue growth in 2017. We will have more industry news to come in the coming weeks, along with some exciting new applications now being launched.